SAT: Study IDs 2 Sites For Albuquerque Soccer Stadium, + More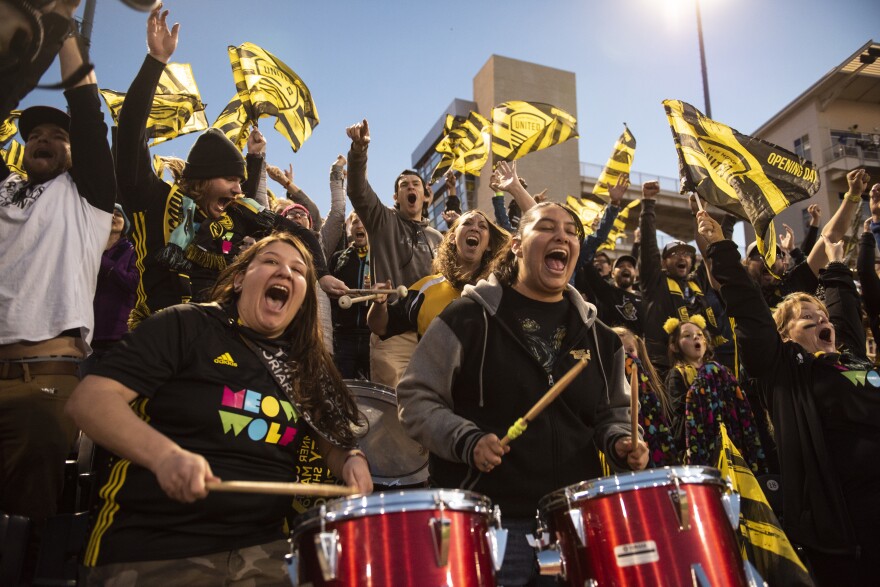 Two Sites Identified For Possible Soccer Stadium – Albuquerque Journal
A consultant to the city of Albuquerque has identified two potential sites for a soccer stadium to house the New Mexico United Team.
The Albuquerque Journal reported in a copyrighted story that CAA ICON named areas near Coal and Broadway, as well as Second Street and Iron as "preferred sites" for a stadium seating up to 12,000 people.
The cost of the project is estimated at $65 million to $70 million, although that does not include the cost of acquiring the land. The city owns part of each preferred site.
City officials told the Journal no decisions have been made and the analysis offers an opportunity for public conversation.
United's president and owner Peter Trevisani said the club wants to be Downtown and said it could help boost the economy in that part of the city.
United currently shares Isotopes Park with the Albuquerque Isotopes baseball team. That park is owned by the city.
The consultant's report estimated a stadium could generate new net direct spending of $10.3 million a year. It does not make any recommendations on how the city would pay for the new venue.
Trevisani said the club would likely contribute through ongoing rental payments or nearby development.
Lawmaker Questions New Mexico AG's Handling Of Solar Case – Albuquerque Journal, Associated Press
New Mexico Attorney General Hector Balderas' handling of a now-settled case involving a large solar installation company has spurred a request from a state lawmaker for an investigation.
Rep. Daymon Ely is asking State Auditor Brian Colón, who is a friend of Balderas, to look into why the attorney general agreed to seal all documents in the case against Vivint Solar Inc. Ely also wants to know why Balderas didn't pursue any specific restitution for thousands of customers as part of the settlement reached last fall.
The request comes on the heels of a separate complaint against Balderas in a multibillion-dollar utility merger case involving a subsidiary of global energy giant Iberdrola and New Mexico's largest electric provider. State regulators have yet to approve the deal, which will affect a half-million customers and likely change the way electricity is generated and delivered in the state.
Ely, a Democrat from Corrales, says the Democratic attorney general agreed to a protective order requested by Vivint Solar that obstructs the ability of consumers to gather critical evidence when pursuing individual complaints against the company.
The order also may violate the state's Inspection of Public Records Act, according to Ely and attorneys seeking restitution for defrauded clients.
"The AG's office appears to be complicit in hiding from public scrutiny what could be a million documents, including critical documents on the allegedly abusive practices employed by Vivint," Ely said in a letter to Colón that was obtained by the Albuquerque Journal.
Stephanie Telles, spokeswoman for the state auditor, said Colón's staff is looking into Ely's request.
Balderas initially filed the case against Vivint Solar in 2018, accusing the company of deceptive marketing practices that resulted in consumer fraud and racketeering involving thousands of homeowners in central New Mexico.
Although Vivint Solar denied the allegations, it agreed to modify its practices to ensure prospective customers are fully informed about the details of contracts. It also agreed to a $1.95 million settlement payment, most of which was for the AG's office and legal expenses and attorney fees for a private law firm that helped with the case.
The settlement included no restitution for individual consumers.
Vivint Solar was acquired by national firm SunRun last fall. The legal agreement binds the new owners as well.
Balderas said earlier this year that the outcome can help shield potential customers from deceptive marketing going forward and that settlement funds will be reinvested in future AG consumer protection efforts.
Balderas said his office agreed to the confidentiality order because it protected private information about individuals gathered during discovery.
But lawyers representing individual consumers said the order sets a dangerous precedent for New Mexico's open records law.
"It's my belief that information and evidence gathered by the AG when investigating a case belongs to the people of New Mexico," said attorney Patrick Griebel, who has been unable to access documents for cases he's pursuing. "The victims in this case should have the tools to pick up where the AG left off. The AG's investigation was done on taxpayers' money, and if the settlement agreement means everyone is on their own to pursue restitution, then we should have access to the fruits of that investigation."
In the utility merger case, watchdog groups filed complaints last week with the state auditor, the state Ethics Commission and the disciplinary board of the New Mexico Supreme Court that highlight Balderas' relationship with a local law firm. They allege that Albuquerque-based attorney Marcus Rael Jr. used his influence to convince Balderas to sign off on the merger and that Balderas awarded numerous contracts to Rael and approved improper invoices.
Balderas and Rael both graduated from the University of New Mexico law school in 2001 and briefly worked together before Balderas ran for public office.
New Energy Economy Executive Director Mariel Nanasi said she became interested in the matter when Rael was hired at $400 an hour by Iberdrola, the Spanish company that is looking to increase its U.S. holdings by acquiring Public Service Co. of New Mexico through a subsidiary.
Balderas gave his support to the proposed merger, Nanasi said, after his own expert witnesses criticized it.
Balderas in a statement denied any claims of favoritism or conflict of interest. Rael said his firm adheres to the state's Rules of Professional Conduct.
Since taking office in 2015, Balderas has hired Rael or others at his firm to help represent the state in at least 19 cases, which is at least triple the number of cases farmed out to any other private law firm, according to a review by Searchlight New Mexico.
Invoices and contracts from the attorney general's office obtained by New Energy Economy show more than $3 million in direct payments of fees and expenses to the Robles, Rael & Anaya law firm.
Albuquerque Official: 3 Dead In Flash Flood Was Worst Ever – Albuquerque Journal, Associated Press
A flash flood warning was issued Friday in the south Albuquerque area, a day after a fire official called the apparent drownings of three men in rushing water following thunderstorms the deadliest such incident in the agency's history.
Albuquerque Fire and Rescue Lt. Tom Ruiz told the Albuquerque Journal the third body was found Thursday using a drone to scan a floodwater diversion channel not far from where would-be rescuers found two other bodies on Wednesday.
"This is what we expected to find in terms of … how many people were missing," Ruiz said.
The National Weather Service said Tuesday's storm dropped more than 1 inch (2.5 centimeters) of rain in some foothill areas in less than 15 minutes.
Ruiz said the swift floodwaters flowing 6 feet deep were some of the highest he'd seen in the region's North Diversion Channel.
Rescue units scrambled to the sides of the channel in northeast Albuquerque Tuesday afternoon after three people were seen in the water after the heavy rains.
Fraction Of Schools' Relief Funds Budgeted For Learning Loss – Santa Fe New Mexican, Associated Press
New Mexico schools plan to spend the bulk of the federal coronavirus relief money they've received on technology and building upgrades rather than student learning loss.
A report this week before the New Mexico Legislature's budget committee showed school districts and charters plan to spend 38% of the $490 million they received thus far on technology and HVAC systems.
The Santa Fe New Mexican reported that schools plan to spend 9% of the funds on learning loss programs and 8% on interventions for at-risk students.
The budget committee's program evaluation manager Micaela Fischer told lawmakers those numbers were surprising because students likely missed out on learning because of the shift to remote classrooms during the pandemic.
Los Alamos Public Schools is an exception to the trend and plans to spend all of the money it received from a December coronavirus relief package to address learning loss with summer and after-school programs.
Wildfires Blasting Through West Draw States To Lend Support - By Nathan Howard, Associated Press
Out-of-state crews headed to Montana Saturday to battle a blaze that injured five firefighters as the West struggled with a series of fires that have ravaged rural lands and destroyed homes.
Progress was being made on the nation's largest blaze, the Bootleg Fire in Oregon, but less than half of it had been contained, fire officials said. The growth of the sprawling fire had slowed but thousands of homes remained threatened on its eastern side, authorities said.
In California, Gov. Gavin Newsom on Friday proclaimed a state of emergency for four northern counties because of wildfires that he said were causing "conditions of extreme peril to the safety of persons and property." The proclamation opens the way for more state support.
On Saturday, fire crews from California and Utah were coming to Montana, Gov. Greg Gianforte announced. Five firefighters were injured Thursday when swirling winds blew flames back on them as they worked on the Devil's Creek fire burning in rough, steep terrain near the rural town of Jordan.
They remained hospitalized Friday but Bureau of Land Management spokesperson Mark Jacobsen declined to release the extent of their injuries. The firefighters included three U.S. Fish and Wildlife Service crew members from North Dakota and two U.S. Forest Service firefighters from New Mexico.
In California, the Tamarack Fire south of Lake Tahoe continued to burn through timber and chaparral and threatened communities on both sides of the California-Nevada state line. The fire, sparked by lightning July 4 in Alpine County, has destroyed at least 10 buildings.
Mandatory evacuation orders were issued Friday in Butte County, California, as the Dixie Fire continued to grow explosively eastward, becoming the state's largest wildfire so far this year.
In north-central Washington, firefighters battled several blazes in Okanogan County that threatened hundreds of homes. And in northern Idaho, east of Spokane, Washington, a small fire near the Silverwood Theme Park prompted evacuations Friday evening in the surrounding area.
Although hot weather with afternoon winds posed a continued threat of spreading some blazes, weekend forecasts also called for a chance of scattered thunderstorms in California, Utah, Nevada, Arizona and other states. However, forecasters said some could be dry thunderstorms that produce little rain but a lot of lightning, which can spark new blazes.
More than 80 large wildfires were burning around the country, most of them in Western states and they had burned some 1.4 million acres of land.