TUES: BLM Vows Protections For Wild Horse Adoptions + More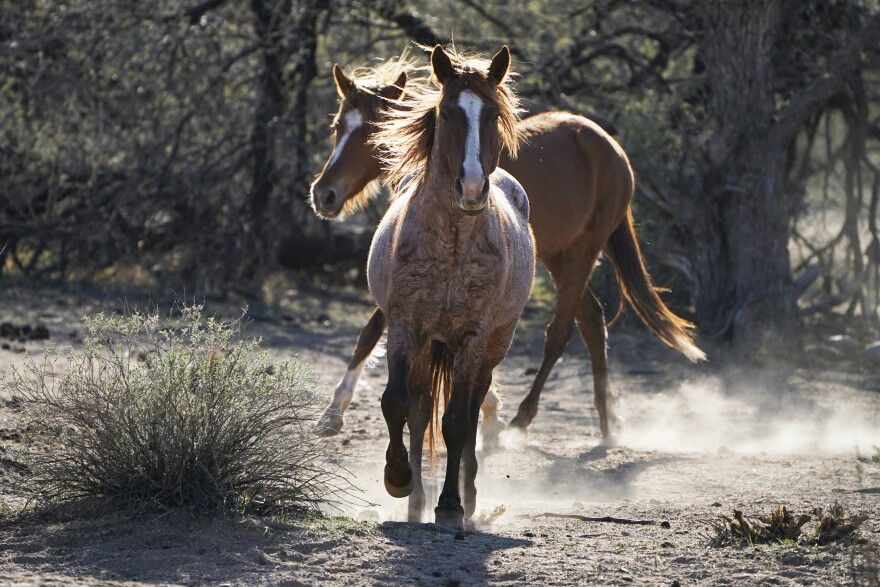 US Vows To Improve Protections For Wild Horse Adoptions - By Scott Sonner Associated Press
U.S. officials who are trying to adopt out wild horses captured on public land say they are tightening protections to guard against the illegal resale of the animals for slaughter, but advocates say the government needs to do more, including ending incentive payments for
adoptions.

The Bureau of Land Management is committed to the health and safety of adopted mustangs and burros, its deputy director for programs, Nada Wolff Culver, said in announcing the changes Monday, adding that the BLM will begin to make additional compliance visits post-adoption, bring more scrutiny to potential adopters and increase warnings to sale barns about the risks of illegally selling wild horses and burros, among other steps.

Advocates said they have documented the reselling of horses for slaughter for nearly a decade and that it won't stop until the agency ends the $1,000 payments it has offered in recent years to try to jump-start lagging demand at overstocked holding pens.

The bureau estimates there are about 86,000 horses and burros on the range in 10 Western states, including New mexico.

Public Defender's Office Settles Sexual Harassment Claims - Associated Press
Two lawsuits accusing an investigator in the state public defender's office of sexual harassment have been settled.

The Law Offices of the Public Defender agreed to pay $345,000 to resolve the lawsuits filed in 2019, the Albuquerque Journal reported. Neither the office nor the investigator admitted liability as part of the settlements.

The agency has locations around the state. The investigator used to work in the Las Cruces office.

Laura Schauer Ives, an attorney for the plaintiffs, said Monday that her clients are hopeful the culture in the public defender's office will change and others will be spared from similar treatment, including retaliation for reporting harassment.


Under the settlement reached this month, the public defender's office agreed to follow up on sexual harassment complaints and agreed to certain procedures for interviewing employees in future investigations.

Bandelier Boasts Bountiful Wildflower Bloom, Thanks To Rain - Associated Press
A bountiful wildflower bloom at Bandelier National Monument is drawing some early risers who want to avoid the midday crowds, and the visitors center is responding to accommodate them.

Starting Sunday, the visitor center will open a half-hour earlier at 8:30 a.m. Acting Superintendent Dennis Milligan said that will give staff more time to hand out information on trails and safety.

The Southwest has been inundated with rain during the monsoon season, bolstering wildflowers. Mariposa lilies, harebells and shooting stars are abundant along trails like the Cerro Grande and Alamo Boundary at Bandelier.

Monument officials say the massive wildflower bloom should last for several more weeks. They say visitors should feel free to photograph the flowers but don't pick them so others can enjoy the view.



Proposal Would Have Commission Set Salaries For Legislators - Associated Press
New Mexico voters may be asked whether to have the State Ethics Commission review and set salaries for state legislators. State Sen. Daniel Ivey-Soto on Monday presented a proposed constitutional amendment to a legislative committee in advance of next year's 30-day legislative session.
New Mexico is the only state where lawmakers receive no salary for their work, though taxpayers foot the bill for travel expenses and an allowance for meals and lodging when the Legislature is in session. Many lawmakers also have access to public pension benefits. The proposal is subject to voter approval. It would have the commission review and establish salaries for legislators every two years and also set the salaries of all elected officers of the executive and judicial branches.
Ivey-Soto said providing lawmakers with a salary would allow more people to serve in the Legislature.

New Mexico Releases Plans For Masking, Vaccines In Schools - By Cedar Attanasio Associated Press / Report For America
New Mexico education officials released updated guidance on COVID-19 case reporting, masking requirements and vaccine considerations for K-12 schools this fall.
The new rules rolled out Monday give vaccinated students more chances to take off masks. It also allows them to avoid quarantines if there's an outbreak on campus.
Schools serving only middle or high school students can choose to allow vaccinated children to go without masks in most situations.
"Our priority is to keep children in school, and it's great news that the (Centers for Disease Control and Prevention) guidance shows that secondary students and staff who are vaccinated can safely attend school without masks," said Public Education Department Secretary Ryan Stewart. "It's one more positive change in the trajectory of this pandemic, and this guidance is possible because these vaccines are so highly effective."
But deciding which schools can unmask won't be easy, and could hinge on vaccination rates.
Under the new guidelines, local school officials are allowed to require universal masking in any school, even among students who volunteer proof of vaccine status in the form of a card or a screenshot of a Department of Health confirmation.
Only 36.9% of children aged 12-17 are fully vaccinated, according to data from the Department of Health. Schools have been sponsoring vaccine events throughout the spring and summer.
Elementary schools will require all students to be masked. Students 11 and younger cannot yet get vaccines.
The percentage of adults who are fully vaccinated varies by county, with some metro areas like Santa Fe at around 73% while rural areas around Carlsbad are at around 40%.
Some middle school students are too young to receive the vaccine. School officials will have to decide if it's safe to allow unmasking in classes with 11-year-olds.
Schools that allow unmasking must track who is vaccinated and who is not on a voluntary basis. Schools could include vaccination status on student IDs, the guidelines suggest. If implemented, the IDs could serve as a sort of vaccine hall pass for classrooms and sports events.
The guidelines map out a balancing act for masking enforcement, prohibiting punishment for children who simply do not have a mask while requiring children to be sent home if they refuse to wear a mask provided to them.
"Until vaccinations are available to children of every age, it will be incumbent on each of us, in school environments, to do everything we can to minimize risk — and that includes face-coverings," said Gov. Michelle Lujan Grisham.
New Mexico health officials on Monday reported 632 newly confirmed COVID-19 cases and three additional deaths. That pushed the state to 209,118 cases and 4,400 deaths since the coronavirus pandemic began in March 2020.
Air Force Takes Next Step In Fuel Cleanup At New Mexico Base - By Felicia Fonseca Associated Press
The U.S. Air Force has spent years trying to keep a jet fuel leak from reaching Albuquerque's drinking water supply and now says it has enough information to outline its work, paving the way to wrapping up the cleanup efforts.
Officials from Kirtland Air Force Base say they will spend the next several months to a year writing a report that they will submit to the New Mexico Environment Department. Once the state reviews and approves it, the base can make recommendations for a final cleanup.
"I do understand how long it looks to everyone else," Kathryn Lynnes, who is overseeing the cleanup for the Air Force, said Monday. "We went after the thing that had the potential to get into the city wells and we grabbed it, and we're working on the rest."
The Air Force has spent $125 million cleaning up soil and water around the base that borders Albuquerque. The fuel leak — believed to have been seeping into the ground for decades — was detected in 1999 and attributed to a supply line break.
The Air Force's assertion that there's no risk to communities nearby hasn't eased everyone's concerns. A group of lawmakers, residents and nonprofit organizations asked a federal judge last year to enforce deadlines for the cleanup.
The judge dismissed the complaint in March, saying the court didn't have jurisdiction over the matter. And even if it did, he would defer to state regulators overseeing the Air Force's actions.
The Environment Department has been working with the Air Force base on the final phase of the investigation.
"While significant progress has been made, there is still work to be done," said Maddy Hayden, a spokeswoman for the state Environment Department.
This step, she said, "is a very important milestone for this project."
A plume of jet fuel that contained an additive known as ethylene dibromide, or EDB, once extended several miles north of the boundary of the base beneath nearby neighborhoods, Hayden said.
The Air Force installed a pump-and-treat system in 2015 that helped pull the plume back and kept drinking water wells from becoming contaminated, she said.
The effects on people haven't been well documented, but the U.S. Environmental Protection Agency says animal studies indicate that chronic exposure may result in toxic effects to the liver, kidneys and reproductive organs.
Lynnes said the equivalent of 775,000 gallons of fuel has been removed from the water over the years, along with 5,000 tons of contaminated soil.
The state has up to nine months to review the report submitted by the Air Force. Once it's approved, the military will start crafting recommendations on final cleanup plans, which again are subject to public comment and approval from the state.
Lynnes said the fix won't be instantaneous and that the Air Force will continue monitoring more than 170 groundwater wells and some 270 soil vapor points.
"This is a super high priority for the Air Force," she said. "I'm really confident we're not going to have any funding issues."
Police Identify 2 Men Who Died In Albuquerque Flooding - Associated Press
Albuquerque police have identified two people who were swept through flood channels during a monsoon storm and died.
They are Steven Camp, 32, and Alexander Corrie, 31. Officials with the police department and Albuquerque Fire Rescue weren't sure Monday whether the two knew each other or had permanent residences in Albuquerque.
A third person whose body also was recovered from the flood channel last week hasn't been identified. The three fatalities mark the deadliest flooding event at least in recent memory in Albuquerque, said Lt. Tom Ruiz, a spokesman for Albuquerque Fire Rescue.
A monsoon storm sent water rushing through city flood channels that measured 6 feet deep in the region's North Diversion Channel, Ruiz said. Multiple 911 callers reported seeing at least two people in the water.
"If you're in the water and you're unable to get yourself in a situation where you're head up, feet first through the arroyo system, it's not designed for survival, unfortunately," Ruiz said.
Western and central New Mexico have the greatest chances of getting heavy rainfall this week that could result in flash flooding, the National Weather Service in Albuquerque said Monday.
Albuquerque Mayor Rallies For New Stadium For United Team - Associated Press
With the backing of Albuquerque's mayor, the New Mexico United soccer team may be one step closer to making a new stadium a reality.
Mayor Tim Keller announced he will send a resolution to the Albuquerque City Council to put a bond proposal for a new publicly funded stadium on the November ballot.
Keller, along with team owner Peter Trevisani, shared the news over the weekend during the team's match against the El Paso Locomotive.
The proposed stadium would serve as a venue for multiple concerts and sporting events but New Mexico United would be the primary tenant.
The project is estimated to cost at least $70 million. Voters would be asked to consider a $50 million bond.
City councilors could vote on the resolution before the end of August.