THURS: Ballot confuses financing of proposed Albuquerque stadium, + More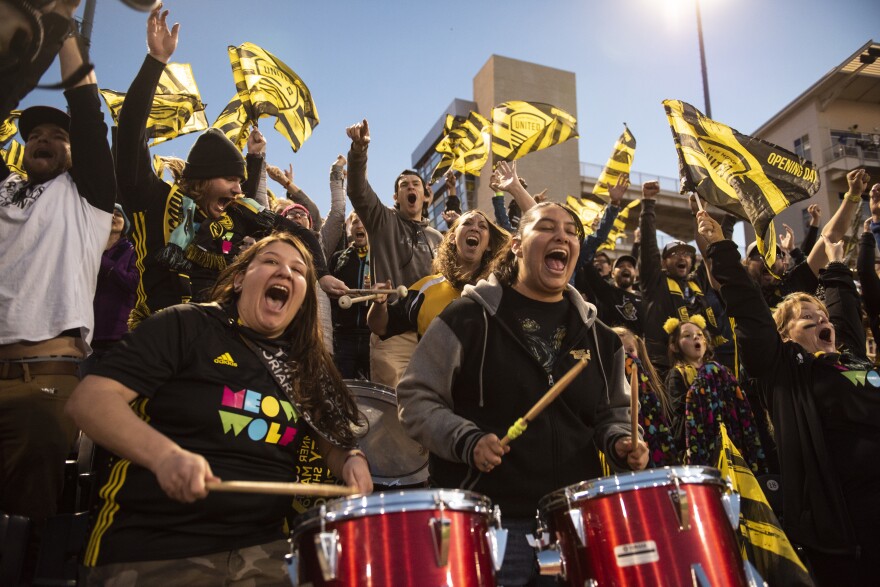 Ballot confuses financing of proposed Albuquerque stadium - Albuquerque Journal, Associated Press
Voters in Albuquerque might be confused about how a proposed stadium will be funded because the ballot measure includes inconsistent language about the nature of the city's $50 million stadium bond proposal.
The Albuquerque Journal reports that the ballot — used since early voting began Oct. 5 — initially describes the project financing as "gross receipts tax revenue bonds" (GRT). However, the spot where voters mark their ballots refers to general obligation bonds (GO), which are a different financing mechanism paid off with property taxes.
Officials say they don't know how the mix-up happened and that it doesn't pose a legal issue.
The city plans to pledge some of its GRT — a tax assessed on the sale of goods and services — to make annual payments on the $50 million it would borrow for the stadium. While Mayor Tim Keller's administration has said it would pursue the stadium only if voters approved the money this fall, GRT bonds — unlike GO bonds — do not technically require voter approval.
The city has been spending about $13 million a year on existing GRT bond debt but recently paid off some of those bonds. That freed up about $4 million per year, which officials say they could apply toward new stadium debt if the voters approve the $50 million bond.
The new stadium debt would require payments of about $3 million annually for 25 years.
The New Mexico United soccer team has pledged to pay $900,000 to the city annually to use the stadium. The team also has said it would pay $10 million upfront toward construction.
Advisory panel endorses redistricting maps for New Mexico - By Morgan Lee Associated Press
An advisory panel to the Legislature on political redistricting on Wednesday advanced three proposals for overhauling district boundaries in New Mexico's Democrat-dominated House of Representatives, with special deference to Native American communities.
Two of the endorsed redistricting maps follow competing recommendations from Indigenous nations and tribes in northwestern New Mexico, a celebrated cradle of ancient civilization where a recent decline in population threatens to disrupt and dilute majority-Native American voting districts.
A coalition including 19 Native American pueblo communities and the Jicarilla Apache Nation painstakingly advanced a plan for the northwest region that emphasizes each tribe's right to self-determination. Breaking with that emphasis, redistricting negotiators for the Navajo Nation have advanced a plan that focused on retaining Native American majorities of roughly 65% or more in six House districts.
Those Native American plans each won endorsement by the state's Citizens Redistricting Committee, alongside a map from the left-leaning Center for Civic Policy that reduces the number of state House districts in an area of Albuquerque with predominantly white, non-Hispanic residents.
In the redistricting process, New Mexico presents unusual challenges in efforts to comply with the U.S. Voting Rights Act to preserve communities of interest and give minority voters a fair shot to elect candidates of their choice. Nearly 48% of state residents claim Hispanic ancestry — the highest portion in the nation — and more than 12% identify themselves as Indigenous by race or by combined ancestry.
"I do believe that we have an opportunity to do something with the House map that has not been possible for decades, if ever," said redistricting adviser and attorney Lisa Curtis, a Democrat who voted for all three maps that won endorsements.
Ryan Cangiolosi, a former chairman of the state Republican Party, voted against the committee endorsements.
He said the map from the Center for Civic Policy in particular had partisan objectives and was meant to make way for a Democratic super-majority in the House over the coming decade. The recently announced retirement of Democratic state Rep. Debbie Armstrong of Albuquerque next year makes way for that map with less friction from incumbents.
Cangiolosi urged the advisory committee to advance other map concepts developed by a consultant — without an analysis of partisan outcomes that comes later in the process.
The recommendations of the Citizens Redistricting Committee are a nonbinding reference point for the Legislature as it enters the once-a-decade process of drawing new political boundaries.
Republicans won a majority in the state House in the 2014 election for the first time in 60 years, but were relegated again to minority status in 2016. Democrats now hold a 45-24 seat advantage, with one unaffiliated representative.
Several states, including New Mexico and Indiana, are using citizen advisory boards to temper political inclinations without taking redistricting powers away from state lawmakers. Judges might wind up using the advisory maps to resolve redistricting lawsuits.
New Mexico's Democratic-led Legislature plans to convene in December to redraw the boundaries for the state's three congressional districts, 112 legislative seats and a commission that oversees public charter schools.
New Mexico Gov. Michelle Lujan Grisham holds veto authority in the process. It has been 30 years since Democrats controlled both the governor's office and Legislature during redistricting.
Proposed changes to a congressional swing district in southern New Mexico are under special scrutiny.
Navajo Nation reports 78 new COVID-19 cases, 7 more deaths - Associated Press
The Navajo Nation on Wednesday reported 78 more COVID-19 cases and seven additional deaths.
It was just the seventh time in the past 21 days that tribal health officials had reported a coronavirus-related death.
The latest numbers pushed the tribe's totals to 35,583 confirmed COVID-19 cases from the virus since the pandemic began more than a year ago.
The known death toll now is at 1,471.
Tribal officials still are urging people to get vaccinated, wear masks while in public and minimize their travel.
Based on cases from Oct. 1-14, the Navajo Department of Health issued an advisory for 31 communities due to the uncontrolled spread of the coronavirus.
All Navajo Nation executive branch employees had to be fully vaccinated against the virus by the end of September or submit to regular testing.
The tribe's reservation is the country's largest at 27,000 square miles and it covers parts of Arizona, New Mexico and Utah.
Study: Warming climate means shortages on Pecos River - By Susan Montoya Bryan Associated Press
Federal water managers warned Wednesday that like other basins across the western U.S., the Pecos River Basin in New Mexico is likely to experience growing water shortages as temperatures continue to rise over the next century.
The U.S. Bureau of Reclamation discussed the findings of a recently completed study on the basin during a virtual briefing, saying the goal of the work was to better understand the threats to water supplies in the region due to climate change. Officials also looked at what tools could be used to stretch resources to help sustain viable agriculture over the coming century as challenges grow.
Reclamation Study Manager Dagmar Llewellyn said those challenges are significant. She described the Pecos basin as arid with a limited and highly variable water supply.
"Drought and climate change-induced aridification is ongoing already in the basin," she said. "We've been seeing less snowfall in the headwaters and more winter precipitation falling as rain. We've also been seeing higher consumption rates within the agricultural system."
The peak flow of snowmelt runoff into Santa Rosa Reservoir, located at the top of the system, amounted to only a trickle of about 5 cubic feet per second this year. Total volume during the runoff period was about 700 acre-feet, or 56 times less than the historical average. That meant less water for downstream users.
About 80% of the basin's water goes to agriculture.
Other concerns include having enough water in the system to support threatened species and meeting delivery obligations to users in Texas as part of a water-sharing compact and a court settlement.
Rather than worry about the uncertainty of projections about the future, the study focused on a series of storylines about how the basin might evolve. Water managers then imagined how water uses could change as a result.
"We're not really dealing with the uncertainty question or trying to find the most likely future," Llewellyn said. "We're developing these different sandboxes that we can play in to see how we might behave, how we might use water, how we might modify our infrastructure, our operations under different potential future conditions."
A number of factors were worked into the models used for the study, from irrigation shortages and endangered species considerations to water releases for Texas.
Officials said a decrease in future supplies won't necessarily mean a cut in agricultural production. Irrigation and infrastructure improvements, the use of more greenhouses, changes in the kinds of crops that are grown and other programs like water banking could be used to offset shrinking supplies.
Some irrigation districts already have been making changes. In Fort Sumner, real-time flow measurement devices and an automatic head gate have been installed. Other agencies are working on collecting more data to help with decision-making down the line.
Officials acknowledged that population growth in Roswell, Carlsbad and other communities along the Pecos River in eastern New Mexico could impact future demands, but the study didn't evaluate domestic wells or potential changes in those over time.
New Mexico awards $157M in grants to child care providers - By Cedar Attanasio Associated Press / Report For America
New Mexico's child care department is sending millions to child care centers in an effort to keep them in business, awarding grants to pay for everything from salaries to rent.
The state Early Childhood Education and Care Department announced Wednesday $157 million in awards to 1,004 child care providers, from large centers to those who offer child care out of their homes.
"New Mexico needs a strong and stable child care industry, not only to support the growth and development of our children but also to ensure that parents aren't forced to drop out of the workforce because they can't access child care," said Democratic Gov. Michelle Lujan Grisham.
Many child care centers closed during the pandemic or reduced the number of children they served due to spacing requirements. Some are still closed or have yet to return to full capacity.
Checks start going out this month and could be a lifeline for child care centers struggling with inflation, rising rents, and increasingly competitive wages in the labor market. The state will audit 10% of the grantees, chosen randomly, to ensure the grant money is spent on eligible costs.
A set of grants totaling $278,000 will allow the opening of a child care center in Grants County in southwestern New Mexico where some 35 families are on a waiting list.
"Probably 50% of them are teachers," said Misty Pugmire, head of El Grito Inc., which is running the center for children aged 6 weeks to 3 years old. "We've got several parents down there that want to go to work, or can't afford to go to work."
She says the grant is one of 13 the organization relies on for child care centers around the county. It will pay for around a third of her labor costs for the first year it is open. Pugmire said that since the reduction in unemployment benefits, it's been easier to find workers even without raising wages.
But some staff hired in September are still not on the job because of the slow pace of law enforcement background checks.
"There are still some of those that I have not received the checks back, because they're backlogged," Pugmire said.
In July, the department increased child care subsidy eligibility to about $93,000 for a family of four.