For Isleta Pueblo, New Land Means New Opportunities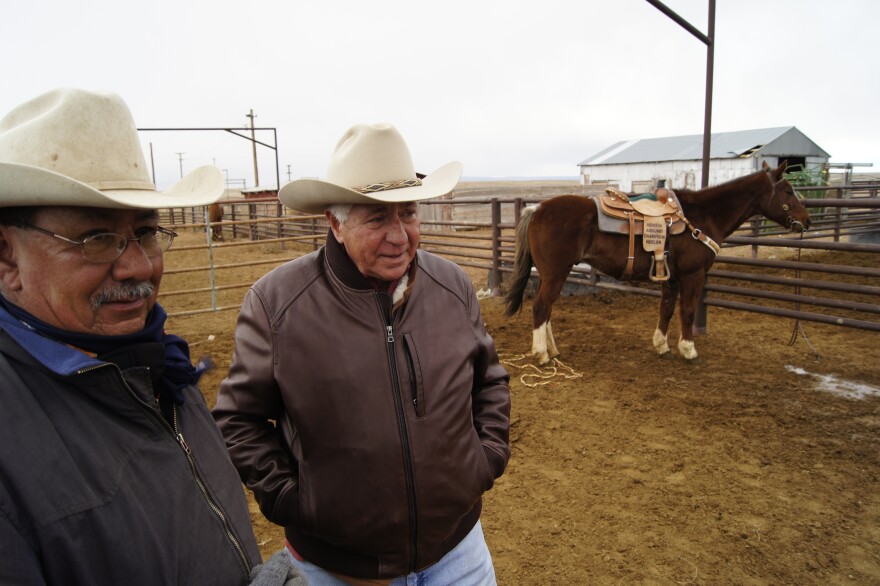 Across the country, Native American tribes are regaining parts of their ancestral land. It's part of a push by the Obama administration to return half a million acres of territory to tribes.
Isleta Pueblo's territory just grew by 50 percent as part of that initiative, and leaders there are looking at new ways to use their land as an economic engine.
About an hour and a half southwest of Albuquerque, at a corral on the Comanche Ranch, a handful of ranch hands from Isleta Pueblo are herding calves into a maze of pens, separating out a group tagged for sale. Bob Crouch, a cattle buyer from Arkansas, is watching with a look of satisfaction on his face.
He's here to pick up 400 heifers, which will get fattened up out of state and eventually end up on dinner plates across the country.
This sale will net $200,000 for Isleta—a lower number than usual, says ranch manager John Romero—but still, a good chunk of money that will go to fund the tribe's health clinics, senior centers and other social services.
But for tribal members, these sprawling hills of sagebrush flanked by the jagged Ladrón Mountains are much more than just a place to graze and sell cattle. This is part of Isleta's ancestral territory, land taken away by a succession of governments that ruled the Southwest over the centuries.
"We've endured takeover from the Spanish government, we've endured takeover from the Mexican government, we've endured the United States government," says Verna Teller, Isleta's Tribal Council President. Sitting in a 400-year-old adobe church on Isleta's dusty main plaza, she explains that history is one reason tribal leaders say owning the ranch as private property isn't enough. For the past 20 years the tribal government has been working to get the land transferred into trust by the federal government—a move that would incorporate the Comanche Ranch into Isleta's reservation.
Last week they got their wish, when US Interior Secretary Sally Jewell signed the ranch into trust in the Obama Administration's largest ever land transfer to a Native American tribe. A cultural victory, and a historical one too—but Teller says that's not the only reason the land transfer is important.
"I mean we're talking about supporting tribal people, supporting ourselves, supporting our community in terms of services," she says.
There are schools, roads, and social services to pay for, and Isleta's government has limited sources of income. The tribe's numbers are growing, too, and a housing shortage could be on the horizon. All that makes finding ways to safeguard the community's health and economic well being a puzzle that needs to be solved, fast.
Isleta does have a high-end casino and resort. But that's not enough to meet all the tribe's needs, Teller says.
"Even though we have gaming, money's going out," she says. "So what we're looking at is, what do we need to create within our own boundaries so we begin to turn over that profit within our own community, so we're spending it on our own."
In other words, what Isleta needs is more options—and more options is just what this land transfer brings.
People in the pueblo are already thinking into the future, sifting through ideas about new uses for Comanche Ranch. An antelope hunting outfit for tourists, a wildlife preserve, and residential properties for tribal members are just a few ideas being tossed around.
And the land transfer comes with federal funding possibilities on the ranch, which opens up a lot of opportunities for the cattle operation, too.
Ranch manager John Romero says he's got some ideas of his own.
"Native American beef," he says. "Trying to get something so the tribes can start providing our own casinos and our own grocery stores. Cause now you have the New Mexico Cattle Grower's Association, but we really don't have anything as far the Native Americans."
And if Isleta plays its cards right, that would be just one of the things here that will bring the tribe economic security for generations to come.
*****
Public Health New Mexico is funded by the W.K. Kellogg Foundation and the Con Alma Health Foundation.