New Mexico Adopts Disclosure Rules For Dark Money, Utility Still Plans To Stop Burning Coal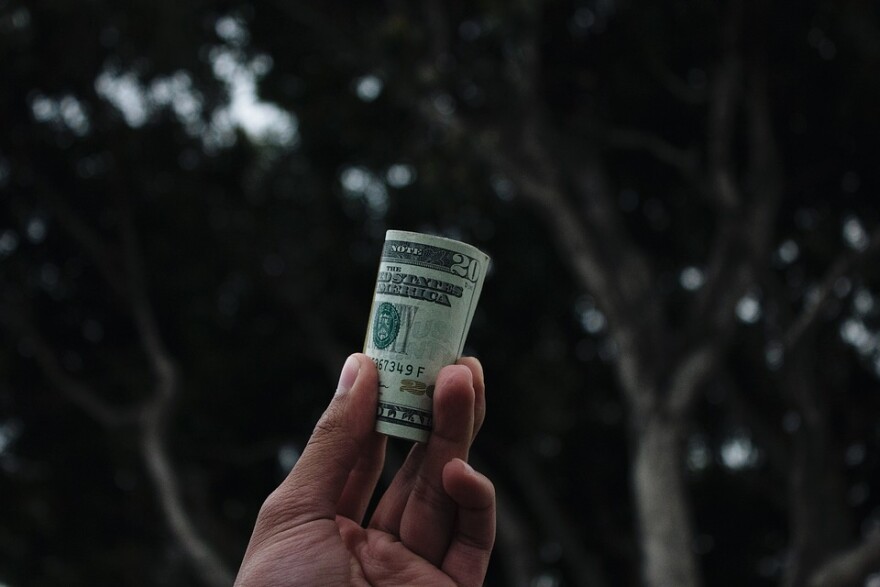 New Mexico Adopts Political Disclosure Rules For Dark Money – The Associated Press
New disclosure rules for political spending took effect Tuesday in New Mexico that require independent groups that spend heavily to influence the outcome of elections to name their contributors — under certain circumstances.
The rules were designed by Democratic Secretary of State Maggie Toulouse Oliver to help voters understand which individuals and special interests are paying for political advertising outside of direct campaigning by candidates. The U.S. Supreme Court's 2010 Citizens United decision allows donors to give as much as they'd like as long as candidates aren't controlling how the money gets spent.
New Mexico's "dark money" disclosure rules apply under specific circumstances, leaving room for nonprofit organizations to run issue-oriented ads well before election day without disclosing individual financial backers, said Viki Harrison of the campaign-finance watchdog group New Mexico Common Cause.
The disclosure rules have come under criticism as an infringement on free speech from several conservative-backed groups, with some arguing that Toulouse Oliver overstepped her authority. Republican Gov. Susana Martinez in April vetoed a bill containing many similar provisions.
New Mexico Utility Continues Plan To Stop Burning Coal – The Associated Press & The Santa Fe New Mexican
New Mexico's largest utility said the Trump administration's move to repeal federal energy regulations won't derail its plan to stop burning coal for electricity production.
The Public Service Co. of New Mexico is still planning to wean off coal by 2031, and it will continue with its efforts to comply with the Clean Power Plan, The Santa Fe New Mexican reported. The Environmental Protection Agency announced on Monday that it intends to dismantle the Obama-era policy that added regulations on coal and natural gas power plants.
Under the plan, the utility had agreed to shut down two out of four coal-burning units at a power plant in northwestern New Mexico and to install pollution controls on existing units by the end this year. It planned to completely close the coal-burning facility by 2022.
Albuquerque School Board Member Resigns Amid Funding Probe – The Associated Press
An Albuquerque school board member has resigned following an investigation into her role at a charter school under scrutiny in an embezzlement case.
Attorney General Hector Balderas announced Tuesday that Analee Maestas resigned from her position effective immediately.
Balderas says Analee Maestas was no longer qualified because of concerns regarding misuse of public funds at La Promesa Early Learning Center.
Earlier this month, the state auditor's office said La Promesa's former assistant business manager — Maestas' daughter — had deposited over 500 checks worth more than $475,000 into her personal bank account.
Maestas founded La Promesa in 2008. She was accused last year of altering a receipt for maintenance work she had done at her home so she could be reimbursed as if it had been a school expense.
Her attorney, Marc Lowry, did not immediately return an email.
Suspect In Circle K Shooting Released Following DA Error – The Associated Press & KOB
A district attorney's office says a suspect who robbed and fired shots inside a Circle K should not have been on the streets.
KOB-TV reports Bernalillo County District Attorney Raul Torrez says because of a mistake made by his office, the case involving Eric Reddick was misidentified, overlooked and he was released.
Police say Reddick and Allyssandre Moncayo were sitting in the parking lot of the Circle K Friday when Reddick went inside the gas station and demanded money from the clerk.
Reddick was behind bars facing similar charges in July.
Torrez says Reddick's case was mislabeled. Instead of being prioritized with other 10-day cases, it was put in the wrong pile.
Because he wasn't indicted in 10 days, a judge released him from jail and dismissed the charges.
Chaves County Sheriff's Deputies Petition To Form Union – The Associated Press & The Roswell Daily Record
Deputies of the Chaves County Sheriff's Office have initiated the legal process to form their own union.
The Roswell Daily Record reports the Chaves County Labor Management Relations Board is scheduled to hold a special meeting Thursday to consider the petition from the International Union of Police Association, AFL-CIO.
The petition says Sheriff's Office deputies, sergeants, detectives and animal control officers seek the certification of AFL-CIO, as their exclusive bargaining unit. The initial certification is needed to the formation of a union, and the beginning of a potential collective bargaining agreement between the deputies and the county.
The petition states about 34 Sheriff's Office employees would be in the proposed union.
Thirty percent of affected employees, pursuant to state law, must sign authorization cards to initiate the unionization process.
National Lab Scientists Assail State Education Proposal - By Morgan Lee, Associated Press
Dozens of scientists and engineers at a national nuclear weapons laboratory in New Mexico are objecting to public school science standards proposed by the state that they say would undermine the study of climate change, evolution and earth sciences.
Sixty-one technical staff at Los Alamos National Laboratory wrote to the Public Education Department to express their disagreement, and published the letter Monday in a full-page newspaper ad.
The letter says proposed standards suggest denial of human-caused climate change and the possibility of an alternative scientific explanation for the history of life on earth other than evolution.
Education Secretary Christopher Ruszkowski called the letter important and said that state official are listening to the concerns.
The Albuquerque Journal reports the Albuquerque Public Schools Board will vote Tuesday on a letter of protest to PED over the proposed additions and deletions to the science standards as well.
School districts in Santa Fe, Los Alamos and Las Cruces have already submitted similar letters to PED.
Contributors Flock To Democrat In New Mexico Governor's Race – Associated Press
Democratic Congresswoman Michelle Lujan Grisham has raised nearly $1.4 million over the past six months in her run for governor of New Mexico.
Campaign finance disclosures filed Monday with the New Mexico Secretary of State's Office show Lujan Grisham has raised $2.2 million since December 2016.
That puts her campaign financially ahead of U.S. Rep. Steve Pearce, the sole Republican candidate. Pearce says he raised about $1 million in three months.
Two-term Republican Gov. Susana Martinez cannot run for re-election in 2018.
Lujan Grisham's campaign highlighted that contributors numbered more than 6,000, signaling a wide base of financial support. Most gave less than $100.
The Democratic nomination also is being sought by state Sen. Joseph Cervantes and former media industry executive Jeff Apodoca.
US Navy Spending $4.3M To Support Testing At Missile Range – Associated Press
The U.S. Navy plans to spend $4.3 million on a project at White Sands Missile Range to support future testing for naval operations.
The funding was recently announced by U.S. Sen. Martin Heinrich's office. The New Mexico Democrat, a member of the Senate Armed Services Committee, had pushed for more money to revitalize government laboratories and test ranges as part of a defense spending measure.
With the funds, officials say they will be able to build upon the Navy's research and development test site at the White Sands complex in southern New Mexico.
Heinrich described White Sands as a national treasure for the U.S. military given its unique terrain, airspace and the expertise of those who work there. In addition to preparing for future testing, he says the project will result in construction jobs.
Tribe: Navajo Code Talker Dies In New Mexico – Associated Press
Navajo Nation officials say Navajo Code Talker David Patterson Sr. has died in New Mexico.
Tribal officials say Patterson died Sunday in Rio Rancho at age 94 from pneumonia and complications from a subdural hematoma.
The code talkers used the Navajo language to outsmart the Japanese in World War II.
Patterson served in the Marine Corps from 1943 to 1945 and was the recipient of the Silver Congressional Medal of Honor in 2001.
After his military service, Patterson became a social worker and worked for the tribe's Division of Social Services until retiring in 1987.
Patterson is survived by six children.
A funeral Mass is scheduled Thursday morning at Christ the King Catholic Church in Shiprock, New Mexico. Burial will follow at the Shiprock cemetery.
Inquiry Launched After Deputy Pulls Gun On Motorcyclist – Associated Press
Bernalillo County Sheriff Manuel Gonzales says his department has launched an internal investigation after one of his deputies pulled a gun on a motorcyclist who was part of a large group that was reportedly driving recklessly through Albuquerque.
The sheriff told reporters during a news conference Monday he wants to see more video footage of Saturday's incident and gather more information from the deputy as well as the motorcyclists involved. No shots were fired or injuries reported.
The sheriff noted that department procedures allow for deputies to draw their weapons with no intention of using them to end a high-risk situation or take a person into custody.
Authorities say the pack of motorcyclists numbered about 50 and at times was blocking traffic and riding dangerously. Dozens of other motorists called 911 to report the group.
Santa Fe Agrees To Negotiations In Conquistador Controversy –Associated Press
Native American leaders representing pueblo tribes throughout New Mexico are expressing new concern about the annual commemoration of the return of Spanish conquerors to Santa Fe after a 17th century Indian revolt.
Santa Fe Mayor Javier Gonzales announced Monday that he has accepted an invitation to meet with the All Pueblo Council of Governors that represents 20 pueblo tribes in New Mexico and Texas to discuss the local tribute to Spanish conquistador Don Diego de Vargas.
The annual reenactment of de Vargas' 1692 arrival in Santa Fe was met with protests and a heavy police presence last month. Eight people were arrested on charges ranging from trespassing to assault on a police officer.
Critics of the de Vargas pageant say it obscures the cruelties inflicted on Native Americans by Spanish colonizers. Santa Fe's Roman Catholic archbishop, John Wester, also has accepted an invitation to the meeting.
State's Pension Funds Expected To Fall Short Of 2013 Goals – Albuquerque Journal, Associated Press
New Mexico's pension funds aren't on quite as solid financial ground as was hoped four years ago when lawmakers approved fixes intended to shore up two large retirement systems.
The Albuquerque Journal reports the Public Employees Retirement Association and the Educational Retirement Board will not be 100 percent funded by 2043, falling short of goals previously set by officials.
Officials predict the Educational Retirement Board, which covers over 105,000 active school employees and retirees will not reach 100 percent funding until 84 years from now.
Some state lawmakers are considering reducing or revising annual cost-of-living increases for retired members of the Public Employees Retirement Association — which covers state employees and law enforcement officers — similar to actions taken in 2013.
University Of Texas Explores Bid To Manage Nuclear Lab – Associated Press
The University of Texas is among the educational and business institutions considering bids to manage Los Alamos National Laboratory.
The university system's regents recently approved spending up to $4.5 million to prepare a bid to run the northern New Mexico facility.
The birthplace of the atomic bomb and still one of the nation's premier nuclear research facilities, the lab has struggled in recent years with a string of safety lapses involving the handling of plutonium and radioactive waste.
The current multibillion-dollar management contract expires in 2018. It was first announced in late 2015 that Los Alamos National Security LLC would be losing the contract since it failed to earn high performance reviews.
Los Alamos National Security's partners include the University of California and Bechtel National Inc. Both entities have expressed interest in bidding for the new contract.
Court: Woman Unconstitutionally Punished For Refusing Test – Albuquerque Journal, Associated Press
The New Mexico Supreme Court has ruled an Albuquerque woman was unconstitutionally punished for refusing a blood test at a checkpoint in 2011.
The Albuquerque Journal reports that a Bernalillo County sheriff's deputy enhanced Larissa Vargas' DWI charge because she refused the test.
She scored a 0.04 blood alcohol content in breath tests and was suspected of being high on drugs.
The state Supreme Court cited a U.S. Supreme Court ruling that says a person arrested for DWI may be punished for refusing breath tests, but may not be punished for declining blood tests unless officers get warrants or there are emergencies in cases involving great bodily harm or death.
Vargas didn't injure anyone. The deputy didn't have a warrant.
On Thursday, justices sent Vargas' basic DWI case back to a lower court.
University Of New Mexico's Chicano Studies Eyes Grad Degrees – Associated Press
The University of New Mexico's Chicana and Chicano Studies Department has submitted a proposal aimed at allowing the program to issue graduate degrees.
Department chair Irene Vasquez announced last week that the program turned in a preliminary plan to expand the university's program that focuses on Mexican-American history and literature.
Chicana and Chicano Studies became an official department at the school two years ago amid pressure from New Mexico Gov. Susana Martinez to get state colleges to cut the number of hours needed to earn a degree.
The University of New Mexico's program is part of a nationwide movement to have education include minority students more and to expand ethnic studies at colleges and in high schools.
New Mexico Considers Rule Changes For Hunting Pronghorn – Associated Press
The New Mexico Game and Fish Department is considering changing the rules for how pronghorn are hunted in the state.
The agency has planned a series of public meetings to discuss proposed changes that would align pronghorn hunts more closely with how deer are hunted in New Mexico. Officials say that would allow for more opportunities for hunters on public and private lands.
The first meeting is scheduled for Thursday evening in Albuquerque. Meetings will also be held over the next month in Las Vegas, Roswell and Las Cruces.
If any changes are adopted, they would be implemented for the 2019-2020 hunting season.
The department says improvements in how the pronghorn population is surveyed have resulted in better data from which to base annual harvest recommendations.