Family Sues Bernalillo County Sheriff's Office For Fatal Shooting, Lawmakers Consider Legal Cannabis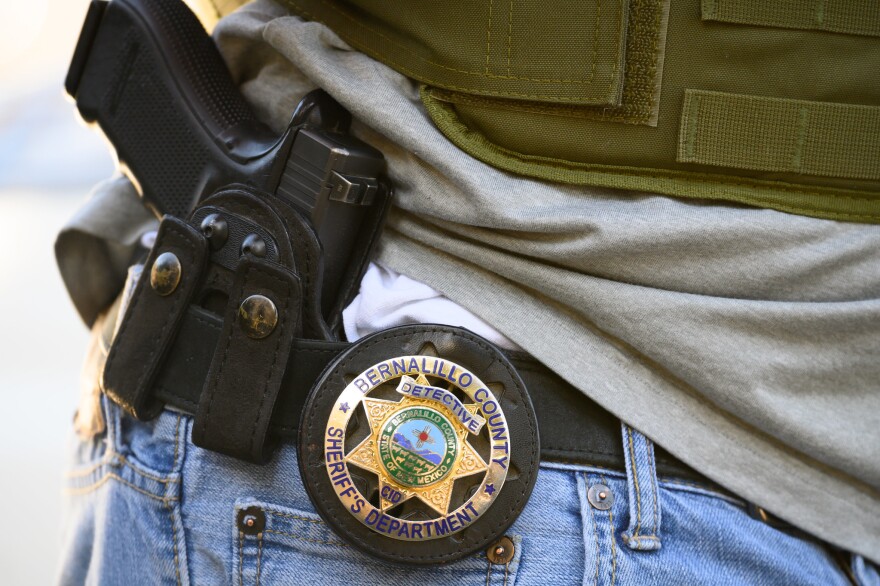 Family Sues After Deputies Shoot Mentally Ill Woman 20 Times - KOB-TV, Associated Press
The family of a New Mexico woman fatally shot more than 20 times by sheriff's deputies is suing.
KOB-TV reports the family of Elisha Lucero has filed a wrongful death lawsuit in state district court against the Bernalillo County Sheriff's Office.
The lawsuit says the family called authorities in July 2019 as the 28-year-old Lucero was suffering a mental health crisis. But court documents say deputies escalated a tense situation when they showed up. The lawsuit alleges that deputies never called for a crisis intervention specialist despite at least one deputy knowing Lucero had mental health challenges.
A Bernalillo County Sheriff's Office spokesperson declined to comment.
Legislature Considers Legal Marijuana, Tuition-Free College- Associated Press
Lawmakers will push plans to legalize marijuana, underwrite tuition-free college and improve a beleaguered public education system during a 30-day legislative session that begins Tuesday. Political battle lines are forming on issues ranging from teacher pay increases to a proposed red-flag law that would allow police or relatives to ask a court to temporarily take away guns from people who might hurt themselves or others. New Mexico state government is forecasting an $800 million surplus for the coming fiscal year. Democratic Gov. Michelle Lujan Grisham and allied majorities in the state House and Senate are suggesting a new round of spending increases for public education.
New Mexico Governor Announces Ambitious Legislative Agenda- Associated Press
New Mexico Gov. Michelle Lujan Grisham announced an ambitious policy agenda ahead of a 30-day legislative session.
Lujan Grisham says she'll consider bills to reinstate New Mexico's tax credit for rooftop solar panels, to facilitate pharmaceutical imports and to criminalize terrorist threats and conduct. She confirmed her support for legislative efforts to provide tuition-free college to about 55,000 New Mexico residents, shore up a major public pension fund, authorize recreational marijuana sales and adopt so-called red flag gun legislation that sets up procedures for temporary firearms seizures.
AG Says New Mexico City Violated Open Records, Meetings Laws - Las Vegas Optic, Associated Press
A northern New Mexico city plagued by lawsuits and a former mayor charged with felony bribery and abuse of power is facing more problems.
The Las Vegas Optic reports the New Mexico Attorney General's Office announced last week the city of Las Vegas and its police violated open records and open meetings laws.
In letters sent to city officials, the office warned that continued violations could result in criminal charges.
Las Vegas City Attorney Esther Garduño-Montoya nor Interim City Manager Ann Marie Gallegos immediately returned emails.
Navajo Nation To Lower Flags In Honor Of Tribal Lawmaker - Associated Press
A former Navajo Nation Council delegate is being remembered for his years of public service and inspiration to others.
The tribe says a funeral for John Perry Jr. is scheduled Thursday morning at Cope Memorial Chapel in Gallup. Meanwhile, flags across the Navajo Nation will be lowered.
Perry died earlier this month at the age of 71.
Tribal officials say two other former Tribal Council members died this month. Benjamin Hogue, who served between 1963 and 1979, died Jan. 3 at age 88. James Tomchee, who served in the 1990s, died Jan. 7 at age 86.
Lawsuit States New Mexico State University Wrongly Fired Professor - Las Cruces Sun-News, Associated Press
A former criminal justice professor at New Mexico State University says he lost his job in retaliation for reporting misconduct at his department.
The Las Cruces Sun-News reports Francisco Alatorre last month filed a lawsuit in state district court. He alleged the university interfered with his promotion and tenure after he cooperated with investigations into discriminatory conduct at the department in 2015.
According to court documents, his department refused to grant him reasonable accommodations for a disability arising from his diagnosis of post-traumatic stress disorder.
New Mexico State University spokesperson Minerva Baumann did not immediately return an email.
New Mexico Jail Bans On-Site Visits, Offers Video Chats Instead – Farmington Daily Times, Associated Press
A New Mexico jail is no longer allowing family and friends to speak to detainees on-site and will offer only off-site phone or online video chats.
The Farmington Daily Times reports the San Juan County Adult Detention Center made the announcement this month.
The county says the change will reduce the travel burden for families. But the Massachusetts-based nonprofit Prison Policy Initiative says hundreds of jails and prisons across the United States have moved away from in-person visits.
The group Face to Face Knox found that ending in-person visitation at the Knox County Jail in Knoxville, Tennessee, made the jail more dangerous.
New Mexico Senator Serves DWI Sentence, Released From Jail- Associated Press
A county jail has released New Mexico state Sen. Richard Martinez after he served his four-day sentence for aggravated drunken driving.
Court records show the Democratic senator was booked into the Santa Fe County jail Friday and was released Tuesday.
Martinez was sentenced earlier this month to five days in jail, but received one-day credit for time served after his arrest. Martinez also received 85 days of supervised probation, is required to attend DWI school and must have an ignition interlock device installed in his vehicle.
Martinez has stepped down from Senate leadership roles after his conviction, but has refused to step down from his seat.
NM GOP Courting Latinos, Native American Voters – Associated Press
New Mexico Republicans will embark on an aggressive strategy to win over Hispanic and Native American voters in 2020 as the party experiences its most diverse primary races in recent history, state chairman Steve Pearce announced.
Pearce said the state party will appoint Hispanic and Native American outreach coordinators in all of the state's 33 counties. He is also urging all candidates to travel to Democratic strongholds instead of just focusing on the GOP's traditional base.
Native American and Latino candidates are running in two GOP primaries for U.S. House seats and for the U.S. Senate seat in New Mexico.
Report Finds NM Is 49th In Country In Child Poverty- Associated Press
A child-advocacy group says New Mexico's child poverty rate rose slightly and continues to rank near the bottom nationally.
New Mexico Voices for Children released Wednesday the 2019 New Mexico Kids Count Data Book that found 26% of the state's children in 2018 remained at or below the federal poverty line.
That places the state back to 49th nationally in child poverty. A similar study last year showed New Mexico ranked 48th.
The report found 30% of the state's Hispanic children were living in poverty, as were 41% of New Mexico's Native American children.
New Mexico Regulatory Agency's Hacked- Associated Press
A New Mexico state agency's website is down as a result of what officials say is a ransomware hack. The Public Regulation Commission says its website hasn't been operational since Jan. 9 and likely won't be back in service again for a week or so.
In the meantime, the commission says filings with the commission either must submitted on paper and sent by postal mail or by hand-delivery to the agency's office in Santa Fe.
The commission regulates utilities, insurance companies, pipeline operators and other entities. Officials say the breach was contained to the commission and didn't result in compromise to sensitive or confidential data. The state Department of Information Technology is the lead agency in the hacking investigation.
Power Utility Plans Solar Projects In Colorado, New Mexico- The Grand Junction Daily Sentinel, Associated Press
Tri-State Generation and Transmission Association has started contracting for new solar power projects in western Colorado as it works to end operations at a coal-fired power plant and coal mine. The Grand Junction Daily Sentinel reports that the utility will end coal-fired power generation to transition about half of its consumable energy to renewable sources by 2024. Officials say they expect these and other wind and solar projects to provide enough renewable power to serve 850,000 homes when completed. Tri-State is moving toward renewable sources in response to state laws and goals and pressure from its members for its reliance on coal.
Aerospace Company Gets Funding For New Mexico Job Expansion- Roswell Daily Record, Associated Press
An aerospace company has announced it expects to hire more people after it received funding from New Mexico to train its employees at its Roswell Air Center location. Roswell Daily Record reportedWednesday that the state Economic Development Department gave more than $527,000 to Arkansas-based CAVU Aerospace Inc. Company officials say they expect to use the money for an audit fee and wage reimbursements to train 37 people for jobs at the company's New Mexico location. Officials say the new jobs are expected to include four warehouse clerks, four inspectors, 25 aviation maintenance technicians and four aircraft recycling services employees.
Taos Pueblo Woman Death May Have Stemmed From Dog Attack-Taos News, Associated Press
Authorities in Taos Pueblo are investigating whether a woman died as a result of an attack by a pack of dogs. Pueblo Gov. Edwin Concha told the Taos News that the New Mexico Office of the Medical Investigator was looking into last week's death. According to a dispatch log from Taos County officials, someone reported seeing several dogs around a woman's body Jan. 8. The caller said she got the dogs away from the body and saw bite marks on the victim's arms and legs. The log did not specify how many dogs were involved and whether they were wild.
Lab Director Says Innovation Key For Peace, National Security- Associated Press
With so many threats to peace and stability around the globe, the new leader of the United States' largest federal laboratory said Wednesday that it's critical the nation find ways to stay ahead when it comes to what he described as a "race for innovation."
James Peery took the helm at Sandia National Laboratories at the start of the year, becoming the 16th director to oversee the lab in its 70-year history. With a multibillion-dollar budget and campuses in New Mexico and California, Sandia focuses on national security work that spans everything from ensuring the safety of the U.S. nuclear arsenal to development of reliable energy sources, nanotechnology and biomedical research.
Aside from potential military conflicts, Peery said the world also faces a growing threat of natural and human-made disasters and that the lab's scientists and researchers have a role in preparing for and responding to those problems.
New Mexico Senator Waiting To Decide On Impeachment Charges- Associated Press
New Mexico's senior U.S. senator says he intends to hear all the evidence at the impeachment trial of President Donald Trump before making a decision. Democratic Sen. Tom Udall was sworn in Thursday for the upcoming trial. Udall's spokesman said in an email that Udall is pushing for a full and fair trial to ensure that the facts are fully uncovered. Two articles of impeachment charge Trump with abuse of power by pressuring Ukraine to help him politically and obstructing Congress's probe into what happened. Udall has been a critic of Trump on a wide range of issues.
Use Of Genealogy Website Leads To New Mexico Rape Arrest-Albuquerque Journal, Associated Press
Authorities say DNA evidence checked against a genealogy website led to a man's arrest in a 2015 Albuquerque-area rape. The Albuquerque Journal reports that Bernalillo County officials said they had DNA evidence from the attack but no match in a law enforcement database. Officials said they then took note of California authorities' 2018 announcement of an arrest resulting from investigators' groundbreaking use of a publicly available commercial genealogy site. The New Mexico victim was attacked Dec. 24, 2015 while jogging along a drainage ditch next to the Rio Grande. Jail records indicate 23-year-old Angel Gurule was booked Wednesday on suspicion of criminal penetration.
New Mexico Adopts Rule As Oil Industry Touts Fiscal Impact- Associated Press
New Mexico regulators have adopted a rule aimed at oil and natural gas companies as the industry touted the more than $3 billion that was pumped into the state's coffers through taxes and revenues during the last fiscal year. With the change, the Oil Conservation Division will be able to assess civil penalties for violating state laws. State officials and environmentalists say that will allow for better regulation of the booming industry. The New Mexico Oil and Gas Association had supported legislation that cleared the way for the change, saying some rules can ensure a level playing field among operators.
Storm Delivers Snow, Slick Driving Conditions To New Mexico- Associated Press
Parts of New Mexico are getting another dose of winter weather as a storm system brought a mix of snow, freezing rain and fog to the state. Authorities on Thursday afternoon warned of difficult driving conditions on some roads, and park officials at Bandelier National Monument and Valles Caldera National Preserve in the Jemez Mountains opted to close early due to the conditions. The National Weather Service in Albuquerque says the precipitation was expected to continue into the night. Mostly snow was falling over western, central and northeast New Mexico, while freezing rain was reported in the eastern plains.