Creative Economic Revitalization Act Aims To Assist Artists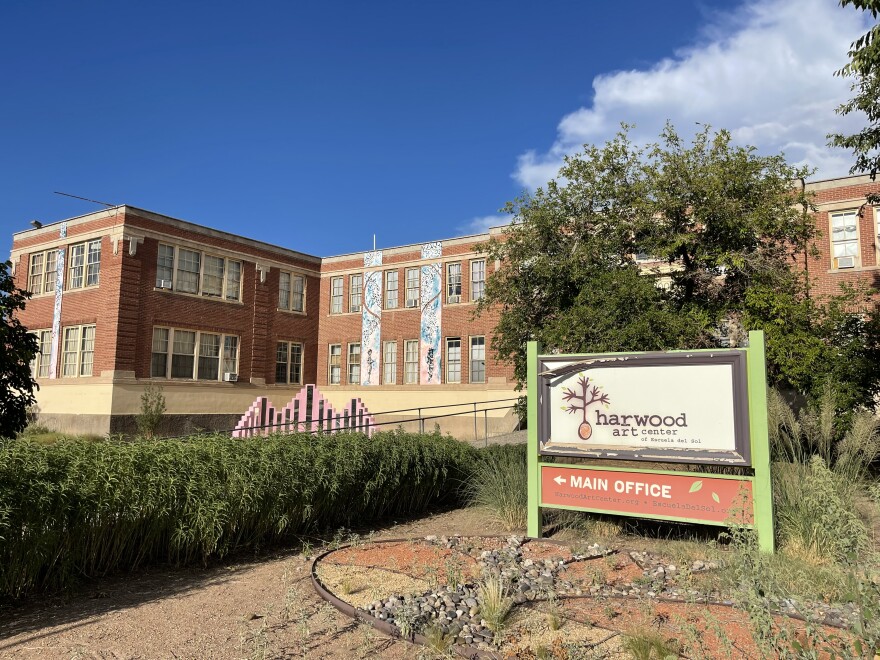 The coronavirus pandemic has slammed the arts and creative industries. One study by Americans for the Arts found over 90 percent of respondents lost income since it began. A new bill introduced by New Mexico Democratic Rep. Teresa Leger-Fernandez looks to the New Deal from the 1930s as a blueprint to support artists and spur economic revitalization.
The Harwood Art Center near downtown Albuquerque. hosts 39 artists. Chief Programs Officer, Julia Mandeville described the list of artists currently occupying the studios. "We have more traditional two dimensional painters, printmakers and installation artists," she says. "And then we have a landscape architect, a set designer, illustrators, musicians."
Mandeville says Harwood supports up to 12,000 New Mexicans a year.
"We center artists of all ages from the littlest babies to the most established seniors and everyone in between," she says.
Mandeville says the shutdown of events during the pandemic reduced Harwood's annual budget by more than $74,000. They did get some relief from local and federal grants. Without those funds, she would have had to cancel artist contracts and let staff go.
Congresswoman Teresa Leger-Fernandez understands that plight very well.
"One in 10 New Mexicans gets their paycheck from the creative economy," she says. "But during the pandemic, 67% of our creatives were out of work nationwide. So we need this now to help those artists, but also for our own communities."
Leger-Fernandez along with Republican Representative Jay Obernolte of California have introduced the Creative Economy Revitalization Act.
The bill would allocate $300 million dollars to get creative workers back into jobs by creating a competitive grant program. Grantees would have to create art that is public and accessible like free concerts, large-scale murals, photography exhibits, or dance performances.
"I know how important it is to have arts and culture in a community," Leger-Fernandez says. "It's what makes a community vibrant. It's what makes a community proud and happy and connected. During the pandemic, we didn't get to experience that."
Rep. Obernolte said in an emailed statement that the arts have been a staple of the communities he represents as well, which includes most of the eastern desert regions of the state, stretching from eastern desert regions of the state. It stretches from Mono Lake to Twentynine Palms.
"As we come together to build back our economies, we must pay special attention to our artists and the industries that were hurt most by the pandemic," Obernolte wrote. "Our small and local artists tell the stories of our communities. Their role in bringing us together is more important now than ever."
The bill was inspired by the WPA, or the Works Progress Administration from the New Deal era. It supported culture and the arts as Federal Project One. That included theater, music, writing, historical records and art. It employed over 40,000 artists and creatives across the country.
Dr. Jody Patterson is the Roy Lichtenstein Foundation Chair of Art History at The Ohio State University.
"The flourishing of the arts that the WPA and other Federal One projects enabled meant that American artists, writers, actors, musicians, you name it suddenly had a place within American democracy," she says. "It really was the beginnings of a kind of cultural democracy in this country."
Patterson also says that one of the goals of Federal Project One was to demonstrate the richness of living in a democracy. As a result many Americans were able to see a professional painting, go to a concert, or attend a play for the first time. Some of the American icons who benefited from the project included writers John Steinbeck and Zora Neal-Hurston, filmmaker Orson Wells and artist Jackson Pollock.
"Those big iconic drip paintings that became so well-known both here in the US and abroad very much came out of Federal One".
Despite the program's success, critics said art was not "real work" or appropriate for government funds. Those battles have continued over the decades. But Congresswoman Leger-Fernandez is confident her bill will find the support it needs.
"This is a bipartisan bill. I'm very proud of my Republican sponsors," she says.
Julia Mandeville at the Harwood Art Center says the arts have become even more important in the pandemic.
"Arts show us everything that we're capable of healing within ourselves and with each other," she says. "This era has really illuminated the critical exercise of self investigation and social reinvention."
She also says that by tapping artists directly for the creation of large scale public works, it changes the nature of place and transforms communities.