Shutdown Disrupts Health Care For Native Americans In N.M.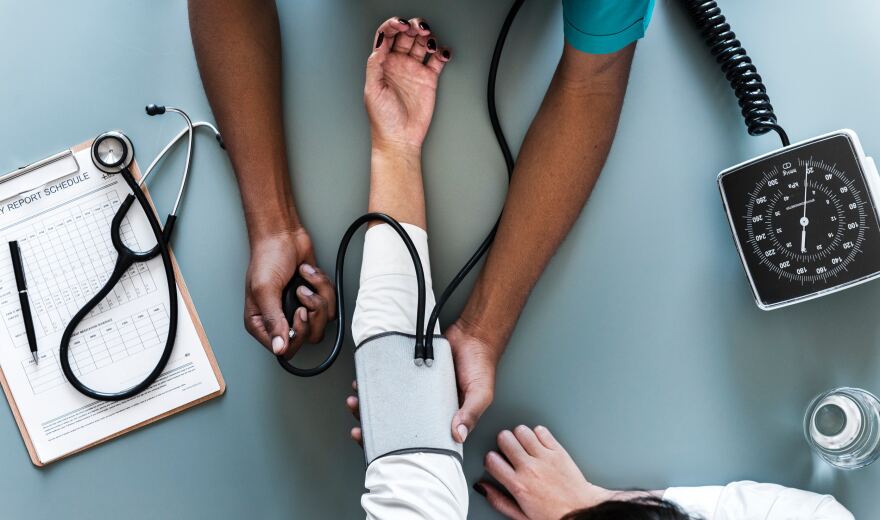 Among the federal agencies left unfunded by the partial government shutdown is the Indian Health Service, an agency within the U.S. Department of Health and Human Services. Aaron Cantú, a staff reporter for the Santa Fe Reporter, has been trying to understand how that's affecting Native American health care in northern New Mexico.
He told KUNM there are three main ways that the sudden loss of IHS funding impacts tribal members.
AARON CANTÚ: Number one, funds go through a program that allows tribes to maintain their own health care facilities, and they can be located both in tribal regions and in urban areas. So that's a really big part of this.
The other part is there are traditional IHS facilities and hospitals that are overseen directly by IHS, and those services have also been affected as well.
Another way people have been affected is that enrolled tribal members can receive care from hospitals outside of the IHS network. So for example, in Santa Fe they could get a procedure done at Christus St. Vincent, and then send the bill over to IHS to cover it. IHS isn't funded and won't be able to pay bills back until the Department [of Health and Human Services] is funded. Those are kind of the three ways Native American healthcare is being affected by the shutdown.
KUNM: What are you hearing about how that's impacting patients?
CANTÚ: I talked to a man named Regis Pecos, who is a pretty prominent member of Cochiti Pueblo. He told me that over the holiday week he had to travel back and forth between Cochiti and Albuquerque to visit a family member who was hospitalized at a hospital outside of the IHS network.
Most of the pueblos between Española and Santa Fe and Albuquerque have a clinic or a health station with some services, and if those are shut down, people are going to have to travel pretty long distances. That's obviously a huge disruption to peoples' lives. If you're a working parent, or if you're disabled, or if you don't have a car, I think all of these factors can create some institutional barriers to accessing even basic care.
KUNM: The partial government shut down means, in part, that non-essential or non-emergency positions are the ones not being funded. What have you learned about how tribal clinic administrators decide which services are essential or non-essential? Who's getting paid and who's not when it comes to these IHS monies?
CANTÚ: In general, IHS is a pretty hard organization to get answers from. So I think really, to get a sense for what services or non-essential administrative roles are being cut, you need to go to the hospitals and you need to speak with staff who are there. That's why it's such a difficult story to get to, because I think it requires a lot of traveling and a lot of time.
The shutdown has affected so many people in so many different ways. The sense that I got from talking with the director of the Albuquerque-area IHS is that he wasn't even sure of the full extent of the effects, because it's so much in such a short amount of time.
KUNM: The federal government, throughout U.S. history, has made all sorts of treaty agreements with tribes: to provide health care, education, funding for other services. That government-to-tribal-government relationship is really being undermined by this shutdown, right? How are the people you interviewed reacting to that fact, in particular?
CANTÚ: Obviously, for very good reason, there has never been much trust between the federal government and tribes, and that's because the U.S. government has schemed and lied its way into procuring the resources of Native American people on this land for centuries. So Regis Pecos was pretty concerned, when he spoke with me, that the shutdown of health services for people was just another blow to any sort of trust or confidence that they have that the federal government cared for them and was an essential service provider in their lives.
It's the tip of the spear of centuries of exploitation and of broken promises and broken treaties, and so I think that if that is an issue that concerns you, then yeah, this is a time to be worried about it.
******
You can read Cantú's full story for the Santa Fe Reporter here. 
******
Support for KUNM's Public Health New Mexico project comes from the W.K. Kellogg Foundation, the McCune Charitable Foundation, the Con Alma Health Foundation, and KUNM listeners like you.