'The Governor's Message': SFR v. Martinez Day 2
A former spokesman for Gov. Susana Martinez testified today in the Santa Fe Reporter's public records and viewpoint discrimination lawsuit against the governor. He said pushing her message, not responding to inquiries from journalists, was his top priority.
Enrique Knell was Martinez' public voice until April 2015. During questioning, he acknowledged that other staff members within the administration didn't speak to the press, so all media inquiries came through his office. Responding "was a small part of my job, yes, but it was part of it," Knell said. The rest of it, he testified, was conveying the governor's message to the people of New Mexico. Knell said he chose which reporters to respond to based on which ones best carried what the governor wanted to talk about on a given day.
He testified about an email comment he sent to news organizations after word of SFR filing a lawsuit started circulating in 2013. "It's not a surprise that a left-wing weekly tabloid that published stolen emails containing the governor's personal underwear order would file a baseless suit like this. Their public records requests are treated the same as every other citizen in New Mexico."
On the stand, Knell said he referred to the newspaper as "left-wing" because the lawsuit "came out of left field." But Knell also reiterated in his testimony that the lawsuit hadn't surprised him.
Whether the Governor's Office discriminated against the Santa Fe Reporter in 2013 is at the heart of the case playing out this week in front of Santa Fe District Court Judge Sarah Singleton. After close coverage of the Martinez administration using private emails to conduct public business in 2012, SFR says the office cut the paper off and stopped responding to questions.
The governor's private, contract attorney, Paul Kennedy, spent the day trying to show how SFR was inferior to other news organizations and also that Knell was often too busy with wildfires and legislative sessions to respond to SFR journalists. "How would you have treated the SFR if they'd been at the Capitol doing the same job the rest of the media was doing?" Kennedy asked.
Kennedy mentioned fire season in 2013, which required travel for Knell. "Do you give priority to the governor's message? Or do you give priority to what some weekly tabloid wants to know?" Kennedy asked.
"I give priority to the governor," said Knell, who was paid an $80,000 annual salary by New Mexico taxpayers to speak for Martinez.
Knell testified that it seemed SFR viewed him as a "research service." Kennedy showed that SFR filed 23 Inspection of Public Records Act requests in 2013 — the most of any news organization in the state that year. (New Mexico In Depth was second with six, and by contrast, the Albuquerque Journal filed three IPRA requests that year.) "At some point it became obvious that their main news gathering tool was going to be IPRA," Knell said.
SFR journalists have said in interviews that they increasingly turned to IPRA requests because they were not receiving responses to their questions from Knell or other Martinez staffers. There is no legal limit on how many IPRA requests a news organization can file.
SFR also alleges that the governor repeatedly violated the state's open records law, either by not responding in time or ignoring requests completely.
Kennedy asserted that SFR asked Knell about "old news," though that claim sidesteps a notion former SFR editor Alexa Schirtzinger testified to yesterday: investigative reporting gets more at the "why" behind a story after news has broken.
One of SFR's attorneys, Daniel Yohalem, asked Knell about instances when he didn't respond to SFR journalists' emails and phone calls. Yohalem also admitted into evidence multiple emails from Knell offering comment to other news organizations on topics about which SFR had been inquiring. Yohalem asked whether Knell would ever get back to SFR in the months after they covered the Martinez administration's use of private email.
"I know that in that time, on various issues, I did respond to the Reporter on a case-by-case basis," Knell testified. Yohalem pressed him to remember an instance, and he couldn't.
In a moment that highlighted the close proximity of the press to this case, Knell, who was on the stand, couldn't answer a question and asked Santa Fe New Mexican reporter Steve Terrell, who was in the courtroom, whether he remembered requesting comment years ago. Terrell was not under oath and just shrugged.
Yohalem also showed emails with news tips Knell sent to other news organizations without, it seemed, ever being asked a question.
SFR's case hinges on the idea that when government officials get picky about which media outlets they communicate with—and when they blacklist news organizations that are critical of the government—they're trying to influence what the press reports. As attorney Katherine Murray, who represents SFR, put it: "To a certain extent, when you choose the messenger, you're also getting to shape the message."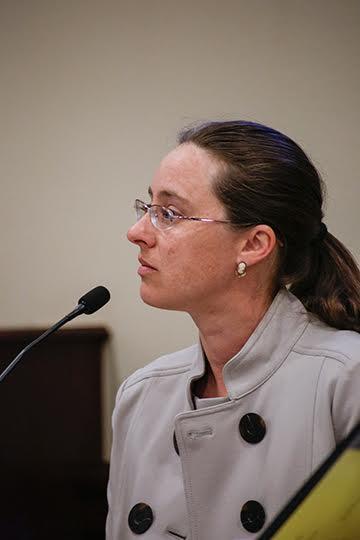 Despite Kennedy's continued insinuation that SFR is some kind of trashy rag, its journalists past and present testified yesterday that they came to work at the 43-year-old newspaper—often from other news organizations—because it had a reputation for long-form, investigative journalism. That includes Editor and Publisher Julie Ann Grimm, who worked for years at the Associated Press and the Santa Fe New Mexican, two outlets held up today as superior to SFR.
Testimony from SFR's journalists, concluded this morning with Kennedy's cross-examination of Grimm. He worked on poking holes in SFR's online readership numbers, implying its horoscopes or the syndicated sex-advice column "Savage Love" are what people are looking at.
"Maybe they're just reading 'Savage Love,' right? And that's not anything you ask the Governor's Office about is it? It's true, is it not, that none of the responses from the Governor's Office made their way into 'Savage Love?'" Kennedy asked Grimm.
He also suggested that the reach and impact of the Albuquerque Journal, the Santa Fe New Mexican and the Associated Press might be why a spokesman would prioritize their requests for comment. But Grimm maintained that SFR is low priority for the Governor's Office because the paper investigated and reported critically on her administration. And being blacklisted, she said, impeded the public's right to know. "The ability for a newspaper to communicate with the government," she said, "is really a bedrock of the newspaper being able to deliver a product to the public."
***
Marisa Demarco is covering the trial jointly for KUNM, and for the Santa Fe Reporter as an independent journalist. SFR contributing editor Jeff Proctor is supervising her coverage for SFR.